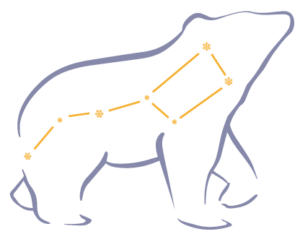 Legend has it that a hunter once chased a bear into the sky where it turned into a constellation. The Great Bear (The Plough or Ursa Major) is easily the most recognisable of the constellations, and visible all night long in all seasons. It is also the third largest of the 48 constellations listed by the Greek scholar Ptolemy. In Greek, bear is arktos, hence the name… Arctic.
Your exceptional chalet in combloux
La Grande Ourse is an exceptional chalet that will delight your senses and fulfil your need for gentle living and comfort.
With its spacious living room and kitchen, a cathedral roof and a large mezzanine, it offers living spaces that are both spacious and pleasantly bathed in light, in a sophisticated atmosphere where wood blends harmoniously with stone.
Sleeping quarters elegantly complete the design with a cosy layout. For family and friends, the chalet offers four bedrooms (each with its own bathroom), including a superb master suite, so that when the time comes, you can find privacy and comfort.
A unique experience that brings you back to what is essential.